Most Albany residents probably take their voices for granted. Like breathing and yawning, it takes little effort to speak – unless you are suffering from a vocal disorder. Keeping your voice healthy and preventing further damage should be a priority for everybody; there's even a day to commemorate the importance of practicing good vocal habits: April 16.
The History of World Voice Day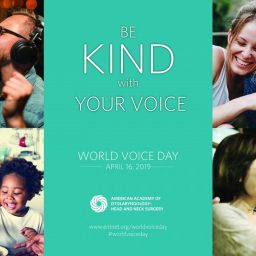 Your voice is not only a unique part of your personality, it is an important component to social interactions in many key areas of your life – including school, work, personal and professional relationships. Taking care of your voice is crucial, but many abuse it (often unwittingly) through poor habits such as smoking, shouting, drinking, whispering and poor speaking techniques. When voice issues arise, people often delay or avoid seeking treatment; this creates a vicious circle that can lead to additional, more serious problems.
This was the impetus for World Voice Day. A group of Brazilian voice care professionals comprised of physicians, speech-language pathologists and music teachers created Brazilian National Voice Day in 1999 as a way to showcase and celebrate the human voice. Other countries, such as Argentina and Portugal, quickly followed suit and the movement grew; in 2002, the American Academy of Otolaryngology – Head and Neck Surgery officially recognized the global event and it was rechristened World Voice Day.
The goal of World Voice Day is to educate the public on the importance of the human voice while raising awareness of voice problems, sharing prevention tips and – above all else – celebrating the marvel of the human voice. Health professionals around the world use this day to encourage everybody who uses their voice for business or pleasure, young and old alike, to take care of their voice by adopting good habits. It is also an opportunity to share information and resources for seeking help with voice problems. The celebration is held every year on April 16 and, as of 2018, nearly 600 events were held in 50 countries across the globe.
It is meant to provide information for all who use their voice for business or pleasure to learn to take care of their voice and teach them how and when to seek help for voice problems. The celebration is held every year on April 16 and, as of 2018, almost 600 events were held in 50 countries across the globe.
5 Tips for a Healthy Voice
Your Albany ear, nose and throat specialist would like to share five tips for maintaining a healthy voice:
Don't abuse or misuse your voice. Refrain from shouting and whispering, both of which put undue strain on your vocal cords. Rest your voice at the first sign of hoarseness.
Drink plenty of water to keep your body hydrated. Your vocal cords require substantial hydration to stay lubricated.
Avoid clearing your throat too often. Doing so can damage your vocal cords and lead to hoarseness. Persistent throat clearing may be a sign of allergies or sinus problems and should be checked out by an ENT doctor.
Quit smoking. Cigarettes are linked to many health complications – and they aren't good for your voice, either. Smoking irritates the vocal cords and can lead to hoarseness and more serious concerns, such as throat cancer.
Practice warming up your voice on a daily basis. Singers aren't the only ones who benefit from vocal calisthenics; daily exercises such as humming softly, performing lip and tongue trills and vocal scales can help loosen up your voice and prevent problems.