Living with high levels of stress is becoming more and more normal. Continuous stress has been linked to a number of long-term health problems, including hearing loss.
Understanding Stress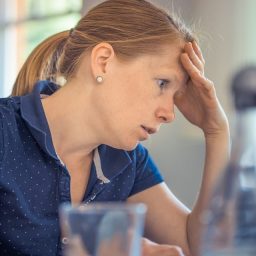 Stress is your body's reaction to situations in your environment. Known as your "fight or flight" response, stress gives your body what it needs to run from a situation or stay and hold your ground.
Some levels of stress are good, as stress can drive you to try new things and push yourself harder. Daily stress, however, can be harmful to your body, according to the National Institute of Mental Health.
The Dangers of Chronic Stress
You're able to move quicker and breathe faster during a stressful event because your body releases adrenaline. But an increase in the hormone long term can suppress your immune, sleep, reproductive and digestive systems.
In a single stressful event, your body sends your brain a signal when it is over, telling it to return to normal. For those who are constantly stressed, their body doesn't receive a clear signal. This can lead to serious health problems including high blood pressure, heart disease, diabetes and other illnesses.
Your circulation is restricted when stressed; this can lead to permanent hearing loss. The tiny hair cells within your inner ear depend on good circulation to carry out their job of converting soundwaves into electrical impulses, which are then sent through the auditory nerve to the brain to be interpreted as sound. When these hair cells are deprived of blood flow, they can become damaged or die, resulting in permanent hearing loss.
In addition to hearing loss, poor circulation can also lead to pulsatile tinnitus. Patients with this type of tinnitus describe it as pulsing ear noise that beats in time with their heartbeat.
How to Manage Stress
The best way to protect your hearing is to prevent damage before it occurs. One way of doing that is by learning how to manage your stress. Below is a list of tools put together by the American Psychological Association to handle stress.
Take a Break
Walking away from whatever is causing your stress for as little as 20 minutes can help give you a new perspective and feel less overwhelmed.
Exercise
Adding at least 20 minutes of exercise a day can remarkably improve the health of your body and mind.
Get Support
Talking to your friends and family about your stressors can be helpful; you may even be surprised by who has gone through similar situations and can offer positive feedback. When you're ready, talk to a mental health professional.
Meditate
Meditation can help your body and mind relax. Adding in this practice before bed can help you clear your mind and get a better night's sleep.
For more tools to help you protect your hearing, contact the experts at Albany ENT & Allergy Services today.