If you're experiencing a condition affecting your middle ear, your physician may recommend surgery to treat it. Below are the four types of middle ear surgery and when each may be necessary.
Myringoplasty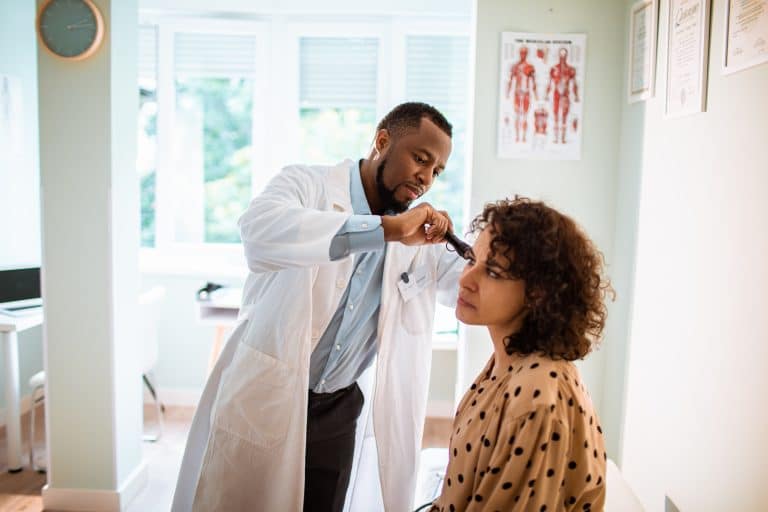 Myringoplasty is a procedure for repairing a hole in the eardrum. This is accomplished by placing a graft over the hole made of tissue from elsewhere on the body or artificial gel-like material.
Tympanoplasty
Tympanoplasty is another type of surgery that fixes a hole in the eardrum. The difference between myringoplasty and tympanoplasty is that the latter involves treating an injury to the tiny bones within the middle ear in addition to eardrum perforation.
Ossiculoplasty
Ossiculoplasty is a surgery to rectify damage to the tiny bones of the middle ear that help transmit sound from the eardrum to the inner ear, known as the ossicles. The ossicles include the malleus, incus and stapes.
Mastoidectomy
A mastoidectomy procedure involves removing cells in the hollow, air-filled pockets within the mastoid bone, which is located behind the ear. This is performed when there is an infection in the mastoid air cells.
Reasons Middle Ear Surgery May Be Performed
Some of the reasons one or a combination of these middle ear surgeries may be performed include:
Tympanic membrane perforation: also known as a perforated eardrum, a hole in the eardrum can result from a severe infection, ear tube placement or injury. While most perforated eardrums heal on their own, sometimes surgery is required to prevent an infection or treat temporary hearing loss.
Eustachian tube dysfunction: The Eustachian tubes connect the middle ears to the back of the throat and allow air pressure to equalize and fluid to drain. Damage to these tubes can result in infections, ear fullness and temporary hearing loss.
Ear infections: Caused by a buildup of fluid in the middle ear, usually after coming down with a cold or experiencing allergies at Washington park, ear infections can result in pain, pressure, temporary hearing loss, fluid discharge and a ruptured eardrum.
Cholesteatoma: This describes abnormal skin growth in the middle ear.
Conductive hearing loss: This is a type of hearing loss caused by some sort of blockage that prevents sound from traveling through the ear normally.
For more information or to schedule an appointment, call Albany ENT & Allergy Services today.
[related-posts]