We all know we should be getting at least eight hours of sleep a night. But sometimes this is easier said than done. Understanding why experts are so adamant about the importance of getting enough sleep may help motivate you to make sleep a priority.
Why Sleep Is Important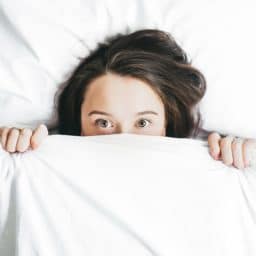 Sleep is just as important as eating right and exercising. In fact, some studies suggest that the more you sleep, the longer you will live.
The Center for Disease Control and Prevention advises adults between the ages of 18 and 60 to get at least seven hours of sleep every night. They say that sleep can:
Improve memory
Cleanse the body of inflammation
Increase creativity
Help you perform better in school
Improve focus
Control weight
Make you a happier person
Sleep makes you an all-around better person.
Why It's Bad to Skimp on Sleep
On the other side of this, poor sleep has a number of negative side effects. Your body repairs itself while you sleep. When you don't get enough, you may start to notice that colds and other illnesses take longer to clear up. Your blood vessels don't have time to heal, which puts you at risk of developing cardiovascular disease.
Your body releases insulin when you don't get enough sleep. This puts you at an increased risk of developing type 2 diabetes. You will begin to eat more, which will make it harder to keep your weight in the normal range. Your ability to make decisions will become impaired, your mood will worsen and you will lose interest in people, places and things that once brought you joy.
How to Fix Your Sleep
There are a number of factors that can keep you from getting a good night's rest. Determining what is causing you to toss and turn is important, as you can't fix the problem if you don't know what it is. Common reasons include:
Stress
Medication
Sleep disorder
Distractions
Interruptions
Stimulants
Exercise
Discomfort
Create a Restful Retreat
Take some time to identify what in your bedroom is causing a problem. A new mattress, blankets and pillows can help increase your comfort. Light-blocking shades and a sleep sound machine can prevent distractions.
Reduce Stress
Stretching and yoga can help release your day's tension. Meditating before bed can help clear your mind and prepare you for a good night's sleep.
Seek Medical Attention
If you are still having trouble sleeping, you may have an undiagnosed sleep disorder. Contact the experts at Albany ENT & Allergy Services to learn more about at-home sleep studies.
Learn More About Sleep