Punching the timeclock pays the bills, but it could be costing you in terms of your hearing.
According to your Albany audiologist, many workers in Albany are exposed to on-the-job noise; certain occupations are riskier than others and may pose a long-term hearing threat.
Noise in the Workplace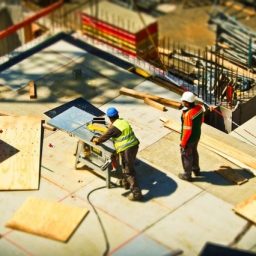 Noise is a leading cause of hearing loss for people of all ages.
Experts believe 22 million workers in Albany and across the country are exposed to dangerous noise levels at work.
What causes hearing damage?
Hearing damage can occur in the following instances:
One-time exposure to an extremely loud sound. Permanent hearing loss can occur instantly following exposure to an extremely loud sound, often a gunshot or explosion.
Ongoing exposure to loud sounds. Repeated noise exposure is equally damaging—it just takes a little longer for symptoms to develop. The cumulative effects of everyday sounds such as music, traffic, household appliances, etc. add up.
What is a safe workplace noise level?
The safe listening threshold for sounds is 85 decibels (dB).
You can be exposed to noise at this level for eight hours before harm to your hearing occurs.
But for each additional 3 dB of noise, your safe exposure time is cut in half.
Therefore, at 100 dB, you only have about fifteen minutes before irreversible hearing loss can set in.
How can you prevent noise damage?
Earplugs are an effective preventative tool when you are going to a concert or sporting event, riding a motorcycle or participating in another noisy activity.
It's a little harder to be proactive at work; OSHA mandates that your employer provide hearing protection if you work in a noisy environment, but enforcement is difficult.
What jobs cause hearing loss?
The following jobs in Albany are considered high-risk for hearing loss.
Manufacturing. Factory workers have the highest risk of developing occupational hearing loss. Noisy machinery and equipment are often found in manufacturing facilities.
Musicians. When you play music for a living, your odds of hearing loss go up regardless of the instrument you play. Violins can cause just as much damage as electric guitars and drums over time.
Farmers. Slipping in a muddy pigpen isn't the only hazard farmers face. Three out of four farmers end up with hearing loss, thanks in large part to noisy tractors and other farm equipment.
Construction workers. Jackhammers, power saws, air guns, welding equipment and other tools commonly found in construction zones can all cause hearing impairment.
Stadium employees. People with jobs in stadiums, arenas and other entertainment venues often face rowdy fans. Noise levels are even higher in stadiums with domes or closed roofs, or when the onfield action heats up (e.g., the home team scores a touchdown). Side note: Oakland residents have excellent hearing.
Dental workers. You might not think of dentistry as a high-risk profession, but the high-pitched noise from drills can lead to long-term hearing loss.
Coaches and referees. Sports officials get up close and personal with everything that takes place on the playing field and must contend with noise from whistles, starting guns and noisy crowds.
Teachers. We're not suggesting that kids are hazardous to your health, but elementary school teachers do face a higher risk of hearing loss over the long term. Noise levels go up in conjunction with activity, making recess and lunchtime particularly hazardous.
If you work in a high-risk profession in Albany, talk to your employer to learn about safety measures being implemented.
It's also advisable to make hearing evaluations a regular part of your routine health checkups.
---
Related Ear, Nose & Throat Posts:
---
Our Albany and Clifton Park Audiologist Office Locations
Albany
123 Everett Rd
Albany, NY 12205
(518) 701-2085
Clifton Park
1785 Route 9, Suite 201
Clifton Park, NY 12065
(518) 701-2075