According to the CDC, 50-60 percent of cases of hearing loss in babies are caused by genetic factors. There are many genes involved in producing healthy hearing, and when a gene doesn't form properly, it's called a mutation. Mutations can run in families and be passed down through generations, or can occur unexpectedly in a single family member.
In about 70 percent of cases of genetic hearing loss, there are no other co-occurring symptoms (meaning the hearing loss is called "non-syndromic"). This was the case for one Pittsburgh family, whose child Gus was diagnosed with profound hearing loss in both ears at two years old.
What Does Hearing Loss Look Like in Children?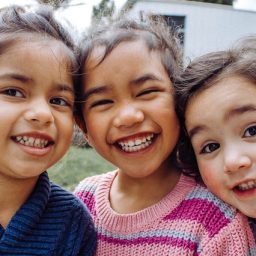 Gus was taken by his family to Children's Hospital for a hearing evaluation when they noticed he was not acquiring speech or reacting to loud noises. "He was reacting to movement and changes in light, but not so much to sounds," Gus's mother, Eve Kollar, explained in an interview.
Gus's physician, Dr. David Chi, told the family that because his hearing loss is genetic, there was no way his parents could have known what Gus was experiencing.
"There are no other conditions with a genetic hearing loss except for the hearing loss itself," he explained.
Finding a Solution for Genetic Hearing Loss
The first step in Gus's treatment was to try hearing aids. As is the case for many people with profound hearing loss, hearing aids were not powerful enough to provide any benefit for Gus. "We tried out our Shop-Vac, right behind him, and he didn't even turn to hear that sound. He wasn't startled by it," Kollar explained.
Dr. Chi then suggested the family may have more success with a cochlear implant, which is a surgically implanted device that bypasses the damaged part of the inner ear and directly stimulates the auditory nerve. The family elected for Gus to have the surgery, and his device was activated just before Christmas of that year.
Importance of Early Intervention
Because Gus's family sought early intervention for his genetic hearing loss, he was given the opportunity to learn and grow just like the other kids his age. Now a middle schooler, Gus enjoys playing violin, guitar and soccer.
While not all cases of hearing loss can be prevented, most can be treated. To schedule a hearing evaluation for your child or talk about genetic hearing loss, contact Arizona Hearing Specialists today!
Learn More About Hearing Disorders